Just a mash-up of fun wall ideas. Some are easy (that cross-stitch wall paint) and some are a bit more difficult (wall covered in birch slices), but each picture depicts a wall that makes a statement. I have huge, tall, stark white walls that are just aching to get transformed. Renting an apartment has it's frustrations (not being able to paint or put up wallpaper) but some of these ideas (i.e. the mountain wall tiles) can be removed easily… perfection!
For every space there is a solution! Enjoy…
Decorating a new room can be exciting and daunting. On the one hand, it's great to define your style and surround yourself with a cozy atmosphere. But, with all that fun you have to be willing to shell out the big bucks, have a vision of your final product, and do all the moving, heaving, and grunting. To keep myself psyched up, I've put together a few posts with fun furniture and home accessories!
Today, it's rugs. These rugs would be the focal point of a room. I'm really feeling the pale neutral backgrounds with black designs or bright pops of color. Not exactly a trend, but more of a color palette I'm lovin'.
–
Here's a great rug from Anthropologie. The little pops of blue and yellow would definitely inspire other color-accent pieces.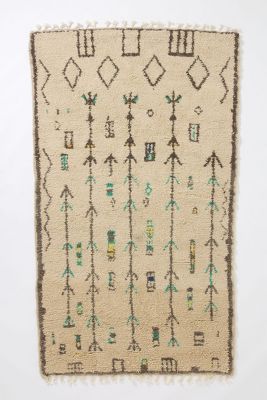 –
This is one of those Moroccan designs that is so big right now, but with a pretty reasonable price tag!
–
I love this Pottery Barn rug. It's a fun pattern with cool color combinations!
–
This rug from Fine Little Day Shop has another great blue and yellow design. This would be such a fun piece to own!
–
How do you feel about rugs with such a ton of personality?